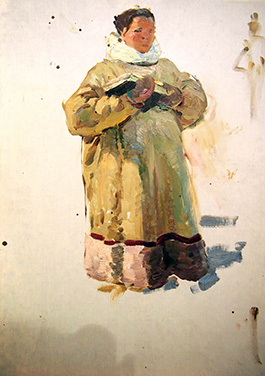 New exhibition at NB Gallery - My Land - paintings by Klim Chursin, Boris Kondrashin, Nickolay Chesnokov, Ivan Osipov, Pavel Chernov, Vasiliy Orlov, Marina Kozlovskaja, Viktor Letjanin.
27.11.2019 — 27.12.2019
Preview — 27.11.2019
The paintings by Klim Chursin have been just shown at the personal exhibition of the painter at the major museum of the Russian South - the Krasnodar Fine Art Museum.
How did the painters in Soviet times travel? Where would they go and what beautiful and remote places would they depict?
The diversity and vastness of Russia - Kamchatka (open to the Foreigners only since 1991), Asia, the North, the South - is revealed through the eyes of the artist.