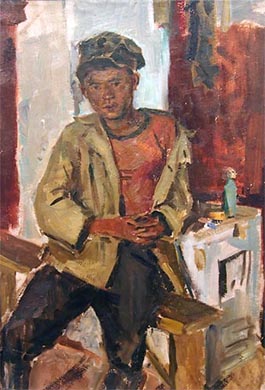 Klara Vlasova was 11 when she was awarded the First Prize at the First All-Union Children's Drawing Competition. Today she is 91 and "I am happy when I can work", - is her motto."I did not reach all I was dreaming about but I aspire to my top", says the painter.NB Gallery presents artworks made in 1940s in the beggining of Klara's career - studies for her diploma painting "Symphonic Orchestra" and "The Rest" as well as her works made recently as "Moscow Evening", "Poppies"
26.05.2017 — 25.06.2017
Preview — 26.05.2017
In 1944 Klara Vlasova was accepted into the Surikov Moscow State Institute without exams. She studied there in the art class of the renowned masterS.V. Gerasimov and V. Favorskaya. Vlasova participated in the summer exhibition of students works in 1945.She graduated from the Surikov Institute in 1950 and was invited to work on the mural for the pavilion "Tajikistan" on the All-Union Exhibition VDNKh. The young artist went to travel around Tajikistan to make sketches of her impressions of the country. Middle Asia became her favourite theme and a source of inspiration since that trip. Dagestan held a special place in the artist's heart. Klara Vlasova has been awarded the title of the "National Artist of Dagestan" and the "National Artist of Russia".Apart from genre painting, Vlasova's works include a lot of still lives, landscapes and cityscapes. She always thought of herself as belonging to the Moscow Art School. Her unexpected compositional approach, colour combination and a genuine interest in the world form a very rich language. Vlasova's artistic vision gradually reveals itself through each painting.Klara Vlasova's artworks are represented in the collections of the State Russian Museum in St. Petersburg, in the Museum of History and Reconstruction of Moscow, in the Museum of Leo Tolstoy in Moscow, in museums of Vladimir, Makhachkala, Sochi, Derbent, as well as private collections in Russia, UK, Germany, France, USA and Japan.