Yuri Andreev. The World in Motion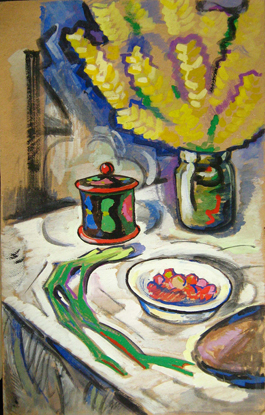 Exhibition of Yuri Andreev, one of the brightest artists of the '60s.
15.05.2010 — 19.06.2010
Preview — 15.05.2010
NB Gallery presents an exhibition of the paintings by Yuri Alexandrovich Andreev. Yuri Andreev was born in Samara in 1928. His artistic style matured in the 1960s. It is full of paradoxical contrasts and bizarre links with a direct connection to the Russian avant-garde tradition. We are pleased to be able to show Yuri Andreev's works of that period where familiar reality of ordinary characters is twisted and many different worlds coexist next to each other. Unexpected green onion is portrayed next to a mimosa branch in his still life and instead of portraits of enthusiastic workers we see people drinking and playing cards. The artist does not mean to ridicule vices of the society; he wants to transform the absurdity of the world he lives in into a harmony on a different level. He creates a picture of the world in motion, with unexpected transformations; it is the world in vibration. Yuri Andreev's works are a result of a tireless search for artist's own language, the desire to create his own aesthetics and to avoid the lifeless canons. A sense of strength and freedom that his paintings radiate does not fade with time. We are looking forward sharing this artistic sense of freedom with this exhibition of one of the brightest artists of the sixties.